Dining
At Carriage Crossing Senior Living we realize that dining is not just an important nutritional part of the day, but that it is also a meaningful social event. Residents can enjoy dining with their friends in the casually elegant dining hall. Balanced menu choices are always available and offer the resident a taste of home. Local produce is used when in season.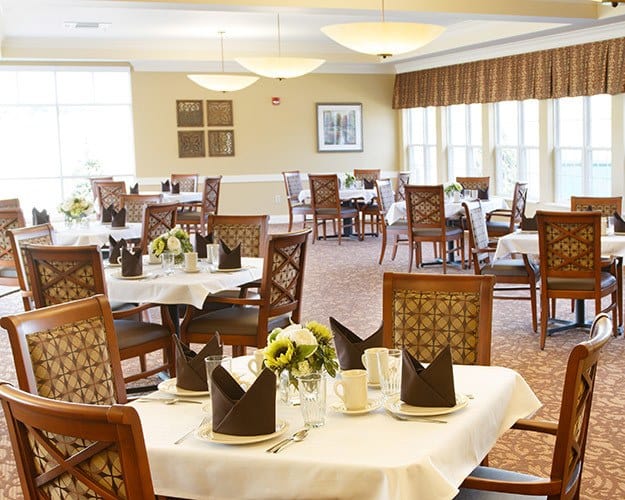 Sample Menu
Breakfast:
Hot or Cold Cereals
Seasonal Fruits
Choice of Toast and Preserves
Yogurt
Eggs (any style)
Biscuits and Gravy
Choice of Juices
Lunch:
Cold appetizer selection
Barbecue Chicken
Roast Beef
Mashed Potatoes & Gravy
Corn
Local Asparagus
Ice Cream
Choice of Beverages

Supper:
Choice of Soup
Italian Beef
Potato Salad
Kale Salad
Crusted Cod Filet
Cookies
Choice of Beverages
*Menu options for Carriage Crossing Senior Living, the Alzheimer's and dementia care program, will occasionally consist of different menu items that are selected specifically for those with memory impairment.​
Carriage Crossing Senior Living offers this delicious menu to all of our various levels of care, including assisted living, memory care, and respite care.
Learn more about how respite care in Arcola can benefit you and your loved one.